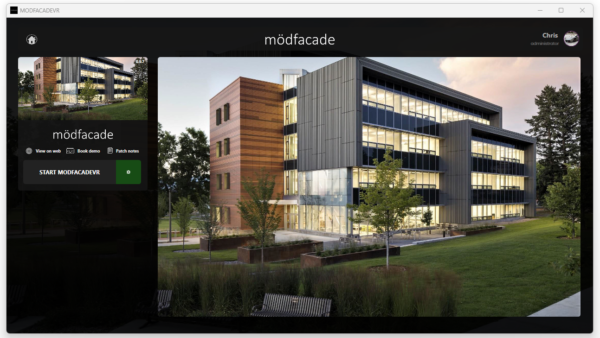 A new way to view RAINSCREEN CLADDING systems
MODFACADEVR will give its users another avenue to view Systems, bridging the gap between seeing the system on a web page and being physically at an office with a panel in your hand.
Architects can now pick up and examine MODFACADE's full range of rainscreen cladding systems in VR – change the panel colour and finish and make informed decisions for your next rainscreen cladding project using MODFACADE
No VR headset? No problem! MODFACADEVR will automatically start a standard 3D version if no headset is detected.
System assembly/dissambly
Each system can be inspected in detail and information is given on specific features that the user might find useful.
Material and finish customisation
The user can change the colour and material type using the helpful user interface. This can be RAL colours or more specific brand names of colours closely matched to real world examples.
Real-time visualistion
See examples of each system and be able to customise its material and colour, removal of panels and substructure with information guidance also available.
VR Ready
Experience the MODFACADEVR in Virtual Reality and really feel connected to the material. A high powered PC is required for this option to work at its best.
First Person Mode
If you dont have a VR headset, dont worry! You can enjoy the MODFACADEVR in first person mode and get a very similar experience.
Helpful support
During the experience you will be guided by various prompts and NPC's – if you need to talk to a real person just give us a call and someone will help you as soon as they can.
Can YOUR PC run MODFACADEVR?
MAKE SURE YOU HAVE THE MINIMUM SPEC TO BE ABLE TO USE THE MODFACADEVR.
Minimum system requirements to be able to use MODFACADEVR  :
AMD Ryzen or Intel 8th Gen Processor (AMD 3000 or 10th Gen Intel Recommended)
8GB RAM
3GB free Hard Drive space
For VR, a 10 series Nvidia GPU (20/30 series recommended) with min 6GB of VRAM (or AMD equivalent)

Recent Quadro cards should be fine – mid to high end from the past 3 years is best.
For the 3D version, Intel or AMD integrated graphics should be enough to hit 25 fps + | A higher powered separate GPU is recommended for the best experience.

Windows 10 + DX11
To use VR the Vive, Oculus or similar SteamVR based headset and controllers will be required.

This version requires a high powered PC to function above the 90fps required for comfortable use.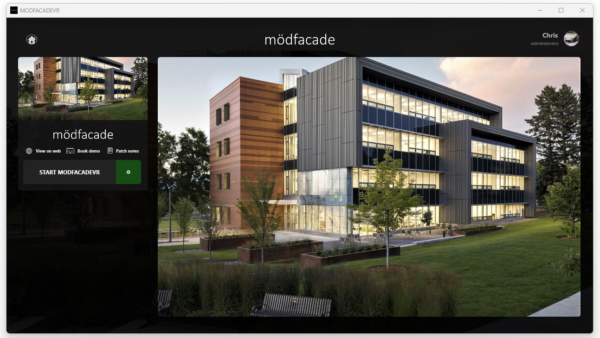 Get started with MODFACADEVR
INSTALLATION (windows pc only)
Download the MODFACADEVR Launcher .exe file
Double click it and install
Open the app and let it download the VR experience.
Please right click and "run as administrator" if you get an error while trying to open the app if you have any issues.